BIOFREEZE is a unique, effective pain reliever formulated to provide a variety of benefits for therapy, pain relief, exercise/training and overall comfort. BIOFREEZE contains ILEX, an herbal extract from a South American holly shrub. ILEX is used around the world in various health & wellness formulations. BIOFREEZE topical analgesic does not use waxes, oils, aloe or petroleum. The result is a fast-acting, penetrating, long lasting pain reliever. BIOFREEZE products can effectively help relieve pain from:
Now Available in 3 different applications: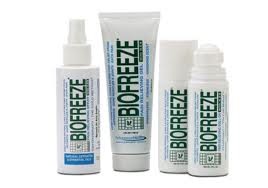 ChiroFlow Waterbase Pillows
A layer of super-soft, hypo-allergenic polyester fiber floats over the top of the water layer for outstanding comfort.
A thermal insulator fully encases the water layer to prevent body heat from being drawn from the head, neck and shoulders. This is an essential component of the comfort of the pillow.
A water pouch secured to the base of the pillow provides the responsive head and neck support. Easy to follow instructions show how much water to add for soft, medium and firm support. Use ordinary tap water. No chemical additives are required.